Meet Keira, The Founder of Habitual Beauty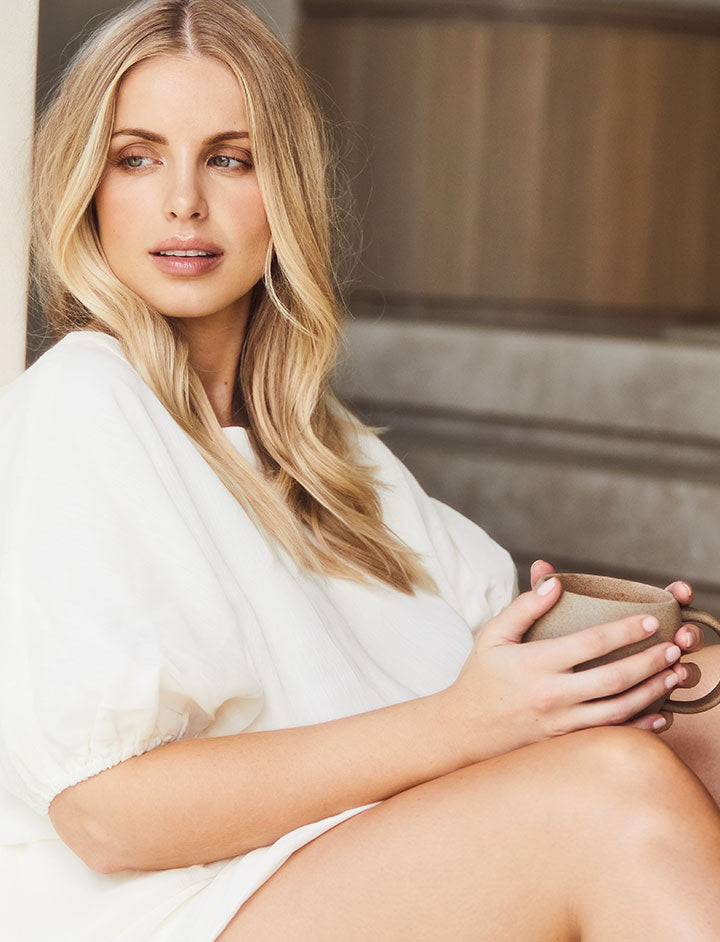 Meet Keira, The Founder of Habitual Beauty
"At the heart of it, I believe the most beautiful being in the room is the one who embodies their whole self."


How did Habitual Beauty's journey begin?
I've spent years living a fast-paced lifestyle defined by obligations and a sea of rising responsibilities, whilst being surrounded by others who are also juggling work-life and mum-life with…well, 'life-life'. During my struggles with infertility, I started to experience hormonal breakouts and found that my usual skincare favourites were not achieving results. Rather, they were further irritating my skin and it was here I saw an opportunity to create a collection that delivers real results and to also offer nutraceutical supplements to support beauty from within.
I like to think of Habitual Beauty as a call for realignment. We are used to unrealistic beauty standards, never-ending daily schedules and constantly changing societal definitions of beauty, all of which never allow us to truly settle in ourselves and nurture our own foundation. Habitual Beauty creates a connection between clean skincare, nutraceutical wellbeing, and intertwines these with the power of ritual.


The skincare range is complemented with ingestible supplements. Why did you opt for inner beauty products?
We often hear the words 'inner radiance' and 'natural, happy glow', but they are often associated with products like highlighters and dewy foundations rather than science-backed solutions that work to support you from within.

Beauty goes beyond the surface... It's rooted in overall wellbeing, gut health and science, which is why it was so important to curate a collection that builds a true foundation for beauty and works in synergy with your gut to fast track results. 
Our Advanced Skin + Gut Health Collagen Elixir has been clinically proven to reduce the appearance of fine lines and wrinkles and to boost skin hydration, whilst promoting and maintaining healthy hair + nails and supporting overall digestive health and immunity.


What does beauty mean to you?
For me, beauty is a celebration of our authentic self. It's empowering, yet incredibly diverse. At the heart of it, I believe the most beautiful being in the room is the one who embodies their whole self, without judgement, scrutiny or question. They are confident, content and careful to not define themselves by the standards of society or those of others.


How do you slow down?
Right now, life is super busy. I own and operate three successful businesses along with recently becoming a mum to my gorgeous little boy, Hunter. So for me, it is really important to find moments of stillness amongst all the chaos. 
I practice what I call 'Micro Moments', where I take a few moments each day to smile and simply be. Something as small as a smile can cause a chemical reaction in the brain that releases hormones such as serotonin and dopamine. I will quite literally "schedule" these into my diary at 10am and 2pm, I'll take some deep breaths and concentrate on something directly in front of me. Whether that be the leaves of a tree or the whiskers of my sausage dog, this helps me to refocus and creates a positive shift in my day.
I love to unwind by having an evening bath with Epsom salts and essential oils. I find a moment of stillness is when I am cleansing my face… I pump the Balancing Cleanser in my palms, rub them together and take a deep breath in the beautiful citrus scent. This helps to really centre and ground myself. I also love to do this with our Rejuvenating Facial Oil. 


Can you give us a glimpse into your mornings?
I meditate most mornings, then I start my morning routine which includes a dry body brush, shower, brush my teeth and tongue scrape. I always set aside ten minutes to focus on skin starting with a cleanse, then applying some Hydrating Serum followed by a few drops of the Rejuvenating Facial Oil and a quick 2-minute gua sha ritual. I'll finish with our Nourishing Moisturiser followed by an SPF, an essential final step!
We'll head out for a family walk and grab a coffee from our local (I always keep a few sachets of our Habitual Beauty Collagen Elixir in my bag or car so I can pop that in my coffee). Once back home, I can't really start my working day without some sort of delicious wholefood (eggs on sourdough are my go-to) or a nourishing smoothie bowl! I then sit down in my office, review my tasks for the day and get started! 
With Hunter's arrival, sometimes this routine isn't possible - but we take each day and moment as they come. 
What are your current skincare favourites?
If I had to pick only two products from our skincare collection, I would have to choose Rejuvenating Facial Oil & Hydrating Sleep Mask.
I love that it's a lightweight yet deeply nourishing oil. Formulated with hero active ingredients including Bakuchiol (the first natural alternative to Retinol), Vitamin C, Vitamin E, and INCA Oil, this luxe face oil grants truly glowing skin.
The Hydrating Sleep Mask is my go-to to glow, it's hard-working formula does the heavy lifting for us. It helps to renew and protect and improve the skin texture with its innovative probiotic complex, anti-inflammatory vitamins and soothing shea butter.


Can you tell us a bit more about the Collagen Elixir and how you usually incorporate it into your daily routine?
I really love to mix up my routine each day, depending on how I'm feeling.

The Dutch Chocolate and Madagascan Vanilla Collagen Elixirs are both perfect to mix in your morning coffee, to pop in a breakfast smoothie, or to add to a delicious bowl of porridge in the cooler months. You can find my favourite smoothie recipe here. 
If I'm looking for a super refreshing treat, then I'll grab one of our brand-new flavours; Sicilian Blood Orange or Yuzu + Finger Lime and simply mix with cold water. Both flavours are also delicious and are also great to make gummies or icey-poles with for the perfect afternoon snack.