4 Environmental Stressors That Could Be Affecting Your Skin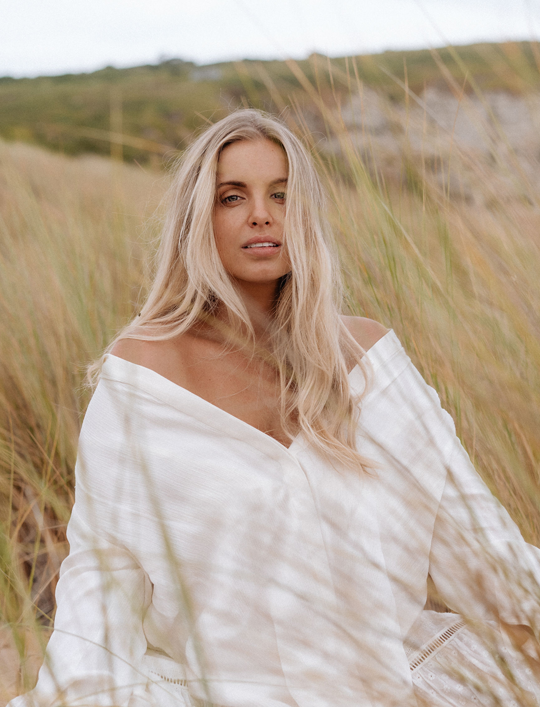 4 Environmental Stressors That Could Be Affecting Your Skin
When we think of our skin, often we think of our facial skin and ideally a hydrated and radiant complexion.
On a good day that's the hope, however just like life has its ups and downs, our skin also goes through its own seasons, changing in mood, appearance and functionality, depending what comes its way.
With our skin the largest organ in the human body, it's important to keep in mind that it not only supports our overall health and vitality, but that what it's exposed to can affect how it shows up day-to-day.
The skin supports us in two main ways: as a barrier to the outside world (protecting crucial body systems), and by assisting practical functions like temperature regulation, immune defence, vitamin production and sensation.

The short of it? Our skin often needs more nurturing than we give it credit for. With a porous nature, it's so important we protect it from absorbing or being affected by the daily irritants in our environment. 

Take Winter… a sudden dip in temperature and skin can become dry, flaky, sensitive and  grumpy overnight. While we can't control or regulate temperature changes in the environment, the question is: how do we work to support skin to thrive during uncontrollable seasons or influence of environmental impacts?
It begins by learning a little about common skin irritants in the environment and what actually goes on when we are exposed to them.Beyond wearing sunscreen and hiding away from the sun, we're often not taught about other daily influences that can just as greatly affect our skin's health or how to protect it.
You may be surprised to know there are other common irritants in our environment, everywhere from our home, to the city environment to our products that stress skin out.
To learn more about the common environmental causes that stress skin and to assist you in nurturing your skin throughout all seasons read our blog below. 
1. Air Pollution
It's something we give little thought to, but daily exposure to air pollution over a long period of time can cause major impacts on skin.
Consider the skin as the first line of defence, like a shield protecting the body from harm's way. This means it's the first organ interacting with everything in the outer environment. 
Research from has found we are commonly exposed to a mix of outdoor air pollutants - from polycyclic aromatic hydrocarbons (PAHs), volatile organic compounds (VOCs), particulate matter (PM), heavy metals, gaseous pollutants (carbon monoxide and nitric oxides), sulfur oxide (SO2), ozone (O3 ) and indoor air pollutants, with both said to interrupt the skin's capacity to be a healthy barrier for the body.
Alongside exposure, air pollutants can be the main culprit behind a range of common skin conditions - from ageing, dermatitis, cellulitis, and psoriasis, acne, hair loss, and even skin cancers, studies show.
Further if the skin barrier becomes damaged, it can lead to oxidative stress and activate inflammatory cytokines, which can affect overall health and wellbeing.
So whether you're living in a big city or not, knowing skin is often exposed to harmful compounds in the air, means being wary of how it is coping. If it seems stressed, take a note from the 'anti-pollution skincare' movement: a movement focused on protecting the skin microbiome and rehydrating at the same time. 
One of our favourite products to help support your skin from environmental stressors is the Hydrating Sleep Mask. It's packed full of probiotic extract to help support your microbiome. 
To rehydrate, try Habitual Beauty's Hydrating Serum featuring vitamin C, B3 and designed to target fine lines, brighten complexion, even skin tone as well as  strengthen the skin barrier and minimise the likelihood of air pollutants penetrating skin cells and causing oxidative stress. 
2. Winter weather
Winter is known to wreak havoc on our skin, one minute it's dewy from Summer and before long, the temperature change has skin soaring from hydrated to flaky in no time.

While we can often predict this change, what we don't often know is what's happening to the skin and what is affecting it. According to science, it's more the constant change in temperature, going from a hot room to a harsh cold climate that affects our skin, not specifically the cold weather.
When we are indoors with the heater up, there is less humidity in the air, and this affects how much moisture is available to the skin, with research finding moisture essential for the skin barrier to perform well. 

Less moisture equals dryness and irritation, then couple that with the elements (outdoor air, harsh wind, rain) and the skin then also becomes stripped or depleted of its natural oils.

This combo results in what we already know and have experienced: dreaded winter skin. Think dry, flaky, rough patches, cracks, redness, itching, stinging, sensitive skin.
To get a head start on Winter skin, start with a powerful hydrating product like our Hydrating Sleep Mask featuring hyaluronic acid, Vitamin E, B3, B5, shea butter, INCA Oil, grape skin extract.
Then throughout the week, morning and night boost skin with Hydrating Serum to brighten complexion and finish with Rejuvenating Face Oil.

Either apply the oil naturally with fingertips or for an added boost, incorporate our Rose Quartz Gua Sha into the ritual, massaging skin to stimulate blood flow and will bring it back to a juicy state in time. 
3. Cleaning and household products
You may think using high grade chemicals will keep the house squeaky clean and it might but the types of chemicals we ingest or come into contact with our skin can be irritating if not harmful.
There are four main reactions skin can have to chemical agents according to the Centre for Disease and Control: direct, systemic, sensitisation, and combined.
Direct reactions are where the skin visibly reacts the moment it's exposed to a harsh chemical - this may look like a rash or red tone.
Drying reactions in contrast, remove natural oils from the skin, causing it to become dry and interestingly often stems from exposure to soaps and solvents. So that hand wash may not be helping! 
Systemic effects are different in that the chemical may enter the body through the skin, be carried by the bloodstream to different organs, and cause or contribute to a health problem somewhere else in the body. Systemic health problems can affect an organ (liver, kidney, or bladder) or an entire body system (immune, nervous system, respiratory system, or reproductive system). Common types of chemicals that can affect systems involve pesticides and solvents (like paint).
Lastly, a sensitisation effect can occur when someone becomes sensitive to a group of chemicals and experiences an allergic reaction when exposed to them. This is often based on the individual but one to be wary of is phenol-formaldehyde, often found in cosmetics and cleaning products.
With this in mind, the CDC explains, the main thing to be wary of is "skin damage as a result of contact with chemicals can reduce your skin's ability to protect you." 
To keep the skin barrier strong and health at its best we recommend switching to natural household products, cosmetics and skincare - like Habitual Beauty - which falls within the 'Clean Beauty' category.

You can be assured our products will never contain the sulphates SLS and SLES, parabens, formaldehydes and formaldehyde-releasing agents, phthalates, mineral oil, retinyl palmitate, oxybenzone, coal tar, hydroquinone, triclosan, and triclocarban.
4. UV Rays
For anyone this side of the Southern Hemisphere, it will be no surprise that the sun is a particularly harmful environmental factor when it comes to maintaining a healthy, hydrated skin barrier.  
As a brand with roots in Australia, Habitual Beauty works to combine both local native ingredients and science backed nutraceutical formulations to support, protect and strengthen skin and its hydration.
The science shows that when our skin is exposed often to ultraviolet A (UVA) and ultraviolet B (UVB) radiation our skin prematurely ages (photoaging) and the UV radiation changes skin cell's DNA. 
Unfortunately once damage occurs it can't be 'reversed' but you can work towards repairing skin by reducing fine lines and stimulating new skin and collagen production to help the overall look and tone.
Aside from protecting skin with a high quality SPF 50+ daily, with regular application throughout the day, we recommend calling upon collagen ingestibles, serums and facial oils to help promote renewed, plump and youthful skin.
Within the Habitual Beauty line, we recommend the following protocol:

A daily intake of our Advanced Skin + Gut Health Collagen Elixir in your water, coffee or smoothie for stimulating collagen production and boosting skin radiance (as well as supporting hair, nails, gut health).

A once or twice daily (in Summer or if skin is extra dry) application of the the Hydrating Serum to target fine lines, brighten complexion, even skin tone and boost nourishment for a radiant complexion.at least once a day (twice daily over Summer),
Complete the skincare ritual with a once daily use of the Rejuvenating Face Oil to hydrate and restore skin's natural moisture barrier. Best applied after the serum to seal skin and leave it instantly dewy.

Or alternatively, alongside the Nourishing Moisturiser which will deeply replenish the essential moisture in skin (often lost after time spent in the sun)as well as balance skin tone and support hydration.