Spring Clean Your Skincare Routine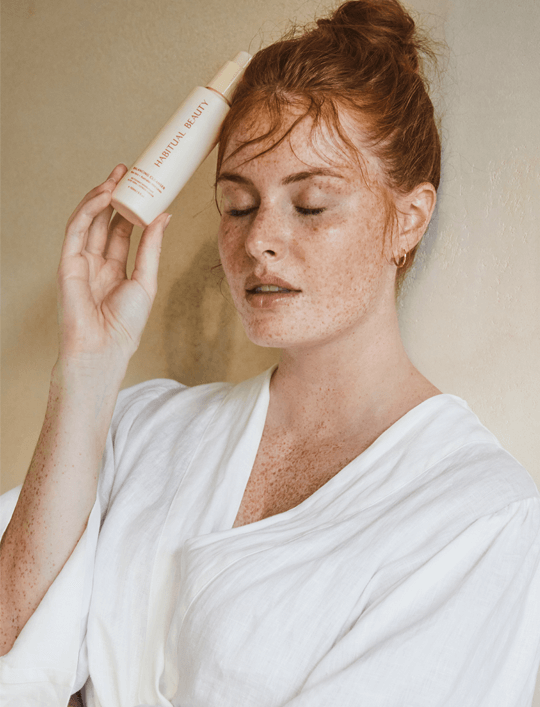 Spring Clean Your Skincare Routine
Just like your wardrobe, spring is a great time to declutter your beauty cabinet and freshen up your skincare routine. It's also the perfect opportunity to reevaluate the products you are using, and look for a cleaner, more natural option. 
Ask yourself, does this product target my main skin concern? Are the ingredients safe? Or to quote Marie Kondo, "does it spark joy?" If the answer is "no", perhaps it's time to try a new product, or switch up your routine. 
Here are 6 simple steps to spring clean your skincare routine and enhance skin health. 
Declutter your skincare collection
Toss out anything that is past its expiration date, or that you haven't used in the past six - 12 months. Also take a close look at the labels and get rid of anything that contains ingredients like parabens, sulfates SLS and SLES, mineral oils, and phthalates - to name a few. By investing in clean beauty products, you're prioritising your own skin health, overall health as well as the planet. 
Try a new product
Now that you've decluttered your skincare collection, why not treat yourself to a new product? Look for products that contain humectants (think Hyaluronic Acid), and emollients (Ceramides, fatty acids) to help improve the natural barrier function - especially as the weather warms up. The Habitual Beauty Hydrating Serum contains two molecular weights of Hyaluronic Acid, to support skin hydration on a surface level and deeper within the epidermis.
Elevate your hydration
Hydration plays an important role in optimal skin health and total wellbeing, especially as the weather warms up. Aim to drink a minimum of 2 litres of water daily; this can be in the form of water, tea, or a refreshing Collagen Elixir to reduce dry skin in spring. Also ensure that you're staying hydrated on the outside by using a Nourishing Moisturiser in the morning and evening.  
Exfoliate, lightly 
Winter is tough on skin, so it's important to clear away dead skin cells in order to restore radiance, increase cell turnover and reduce dryness or itchiness. We recommend using a gentle exfoliant like our Balancing Cleanser - formulated with lactic acid to effectively cleanse skin and remove surface impurities while maintaining a hydrated, healthy looking complexion. It also helps to improve the skin's natural moisture barrier, lighten the appearance of dark spots, and reduce the appearance of fine lines and wrinkles. It's even suitable for more sensitive skin types. 
The importance of SPF + sun protection
UV rays and sun damage are one of the biggest causes of premature ageing and skin damage, so protecting your skin with a high quality SPF 50+ is vital, especially in spring, as the days are longer and we spend more time outdoors. Always wear protective clothing, re-apply your SPF frequently and avoid prolonged sun exposure, especially when the UV Index is 3 or more. 
Spring is also the perfect time to focus on products rich in brightening + anti-ageing ingredients. Niacinamide and Vitamin C are two key ingredients found that studies show may help to improve the appearance of existing pigmentation and prevent the skin; ' the body's first line of defence', from further skin damage. 
Prioritise nutrition
If you over-indulged in your favourite comfort foods over winter, now is the time to prioritise your nutrition to optimise skin health. Ensuring your diet is rich in antioxidants, collagen, healthy fats, calcium and vitamin D (to name a few), can help nourish your skin from the inside out. Here are some healthy snack ideas to set you on your way:
A small handful of walnuts

Avocado & tomato on rice cakes