The nourishing Collagen Hot Chocolate you can't live without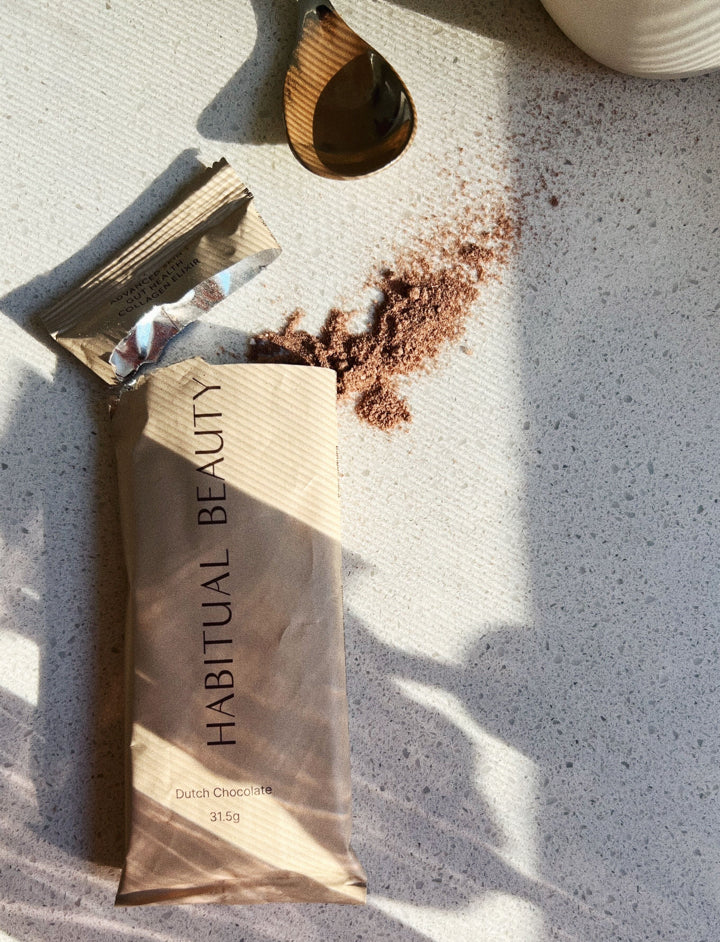 The nourishing Collagen Hot Chocolate you can't live without
There's so much to love about this nourishing Collagen Hot Chocolate recipe. As you're dreaming of sunnier days, this recipe will warm you up instantly and hit that sweet spot whilst also nourishing your skin health from within. With 10,000mg of Hydrolysed Collagen Peptides and multiple vitamins and minerals that will keep your skin, hair and nails looking radiant, and prebiotics, probiotics, digestive enzymes, and good fats to support your gut health.

It's glow-inducing, gut-loving and guilt-free. This is such a simple recipe, and can also be elevated if you're craving something with a more indulgent twist. 

INGREDIENTS 
One sachet of Dutch Chocolate Collagen Elixir
⅓ of a cup of boiling water
1 cup of milk of choice (we love oat or almond milk) 

METHOD
Empty most of one sachet of the Dutch Chocolate Collagen Elixir into a mug
Pour 1/3 cup of boiling water into the cup and stir well to dissolve 
Add 1 cup of your preferred milk into a milk frother and froth well
Pour milk into the mug and stir well to combine with the Collagen Elixir
Sprinkle the remaining Dutch Choc Collagen Elixir on top and enjoy!

If you like things with some extra spice, add a sprinkle of cinnamon.
If you like things extra sweet, add a dash of honey or maple syrup.
If you like things super chocolatey, add a tsp of cacao powder.
If you're craving a coffee hit, add a shot of espresso.
If you're a nut butter fan, add a teaspoon of your favourite nut butter.