You Collagen Questions Answered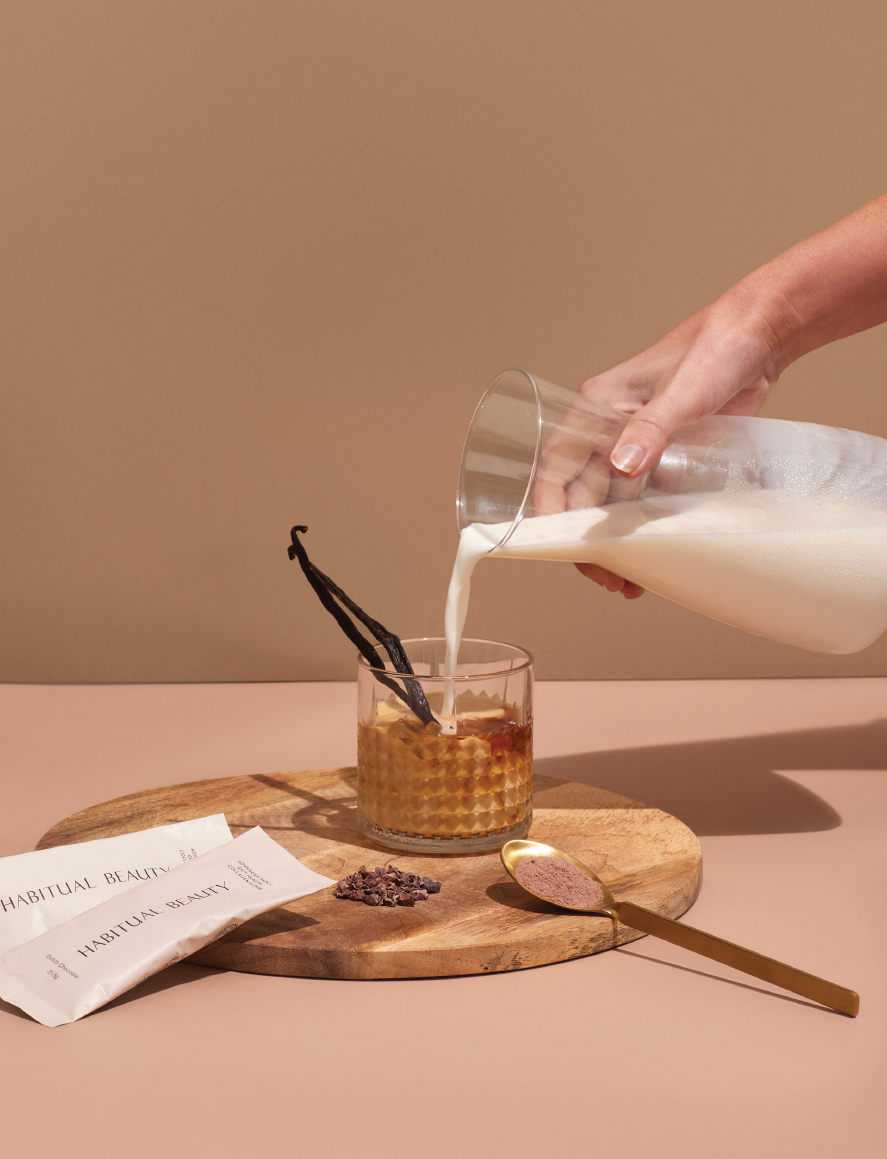 You Collagen Questions Answered
Over the years, collagen has become one of the most talked about ingredients in the beauty industry, claiming global cult-beauty status - and all for good reason. Collagen is not just a catchphrase – alongside its plumping and age-defying benefits, collagen is also known for its overall strengthening qualities. So, you may ask, where does it come from, how much do you need and when can you expect to see real results? We're here to answer all your questions regarding this essential skin health ingredient.

What is collagen and how does it help my skin?
Collagen is a structural protein. It functions as glue that holds the body together, ensuring strength and elasticity to skin, bones, muscles, tendons, hair, ligaments and cartilage. Collagen accounts for around one third of our body's protein composition. Did you know there are multiple types of collagen, all with their very own roles? Collagen type I & III are the most common found in the skin's dermis.
Healthy collagen levels provide a supportive base structure for your skin to help maintain its elasticity, strength and overall well-being. Collagen also helps your skin cells to keep renewing and repairing, which can help prevent wrinkles and dry, dull skin. By keeping your skin healthy from within, collagen improves the skin's appearance – think plump, glowing, smooth skin. 
While our body naturally produces collagen, once we get to approx. 20, collagen production slows down by around 1% per year. Other aspects such as smoking, excess sun exposure and consuming too much sugar can lower its production even more, which is why adding collagen supplements to your daily routine is so important.

How much collagen is in your Advanced Skin + Gut Health Collagen Elixir and what type of collagen do you use? 
Each sachet of our Collagen Elixir contains 10,000mg of Bioavailable Hydrolyzed Collagen Peptides, which will give your body its daily dose of hydrating, age-defying collagen. We formulate our Elixir with grass fed bovine collagen, which contains a mixture of type I and III collagen.
We use a strictly controlled natural process that involves enzymatic treatment to break down raw collagen into smaller peptides and even smaller free amino acids from 3KDa to as low as 2KDa. Our bioavailable collagen has over a 90% absorption rate alone and can be easily absorbed by the human body.

What are the benefits and when can I see results? 
The high dose of collagen, blended with 24 active skin and gut health ingredients (such as 17 amino acids, essential vitamins, hyaluronic acid and digestive enzymes) will nourish your hair, skin and nails from within, alongside a multitude of other general health and wellbeing benefits. By taking our Collagen Elixir daily, you will hydrate, strengthen and repair your skin cells, bringing out your skin's natural glow and plumpness. 
Clinical studies have shown results after a 56 day period of using just hydrolyzed collagen peptides alone. Further studies have revealed that oral nutritional supplements consisting of hydrolysed collagen plus hyaluronic acid, and essential vitamins and minerals, leads to a significant improvement in wrinkle depth. Typically, when used in conjunction with our hydrating science-back skincare results can be seen earlier.
How can I add it to my daily routine?
When formulating our Collagen Elixir, versatility, practicality and joy were all incredibly important aspects. We wanted to make sure that it's not only easy to implement into your day-to-day life, but it's something to truly look forward to every day. We enjoy our Collagen Elixir with a moment of calm - we like to think of a nourishing ritual, over routine. Our favourite ways to consume the Collagen Elixir is with our morning coffee or smoothie, or even stirring it through a delicious bowl of warming porridge in these cooler months. The Dutch Chocolate makes for a delicious evening hot chocolate.

Discover the Advanced Skin + Gut Health Collagen Elixir Range